Green Issues
How lucky we are to live and work in this wonderful landscape! We don't underestimate how important it is for us, for our customers and for our future. Doing what we can to sustain and, where possible, improve this world-class natural heritage is thus an integral part of our approach to business.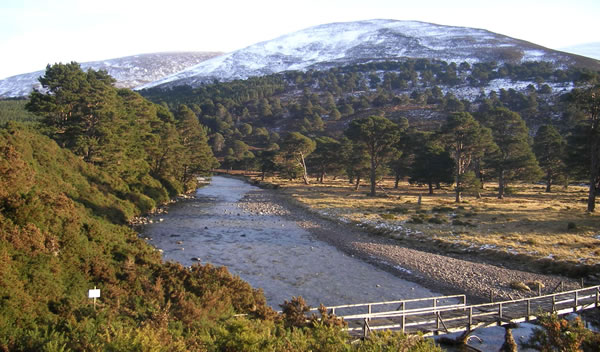 Glen Feshie, showing remnants of the Ancient Caledonian Pine Forest
Green Business Tourism Scheme
In the office we minimise waste and maximise recycling. We encourage and facilitate holidays which make use of public transport. And so far as possible, we use accommodation providers who are members of the Green Business Tourism Scheme.

But we decided that we should be doing something more. So now we are planting trees: one tree for every booking received.
Teaghlach Wood
The place we have chosen is Teaghlach Wood, near Comrie in Perthshire, administered by Trees4Scotland. Pronounced 'Chowlach', Teaghlach means family or household and it was launched at the time of The Gathering 2009. The wood consists of native tree varieties such as oak, birch, rowan and willow which promote biodiversity and encourage the regeneration of woodland wildlife habitats.
Trees4Scotland have offered to plant an extra tree for every five bought by us and soon we will have a little Scottish Clans and Castles grove underway!
Contribute Yourself
Not just that, but in case you would like to contribute to the Teaghlach Wood yourself, we have arranged a special Clans & Castles discount of 20% on the normal cost of GBP 10 per tree.
Simply enter the discount code "Castles"!
For more information, see www.trees4scotland.com/teaghlach-wood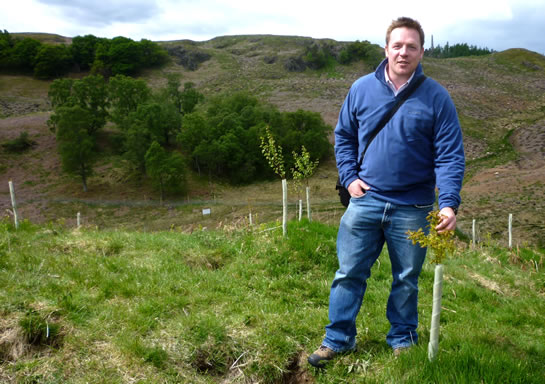 Angus Crabbie, Director of Trees4Scotland, at the newly planted Teaghlach Wood