Borderlands Tour June 2020
The Scottish Borders is famous for its castles and its cashmere, for the lovely Tweed valley, medieval abbeys, Sir Walter Scott's baronial home and the romantic Border Reivers (rustlers). Combine this with a visit to Hadrian's Wall and Alnwick Castle, (Harry Potter films) … and we have a sensational five day tour!
Included are Flodden battlefield, site of Scotland's worst defeat, Teviothead where the flamboyant reiver Johnnie Armstrong was hung by his king, luxurious Floors Castle, seat of the Dukes of Roxburgh, and a look at grim Hermitage Castle. You'll also witness the unique and colourful spectacle of the Hawick Common Riding (dates from 1703).
Each tour is for a maximum of seven people, travelling in a nine-seater minibus.

The Eildon Hills from Scott's View
The general outline of the tour is as follows…
2020 Tour Date
Arrive Wednesday 3rd June 2020 stay the night in chic Edinburgh B&B.
Day One - Thursday 4th June 2020
Tour guide meets you at your Edinburgh B&B and you head straight for Peebles, a charming market town on the Tweed, full of small independent shops and, just outside it, Neidpath Castle on its cliff.
Following down the Tweed we stop at Traquair, the oldest inhabited house in Scotland; always a Jacobite house, its 'Bear Gates' will remain closed until a Stuart is again on the throne. A little down the river is Abbotsford, the exuberant and fascinating home of Sir Walter Scott. Then to Selkirk and Lochcarron weavers. Next we visit 13th century Melrose Abbey, where the heart of Robert 'The Bruce' is buried.
We reach our St Boswells hotel in good time to settle in, then hear from a local about the ancient and spectacular Common Riding that you'll see tomorrow.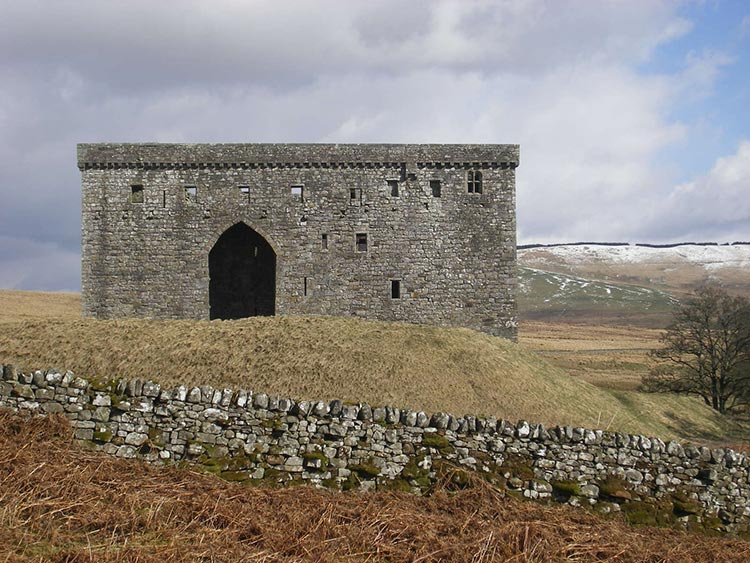 On Day Two - Friday 5th June 2020
We head up to the Common Riding, cameras at the ready. Lunch stop at Born in the Borders, then we visit Smailhom, a classic Border tower-house, where Sir Walter Scott played as a boy the fount of his fascination for the tales of the Borders. Fnally, a stop to enjoy 'Scott's View' across the Tweed to the Eildon Hills before returning to our St Boswells hotel.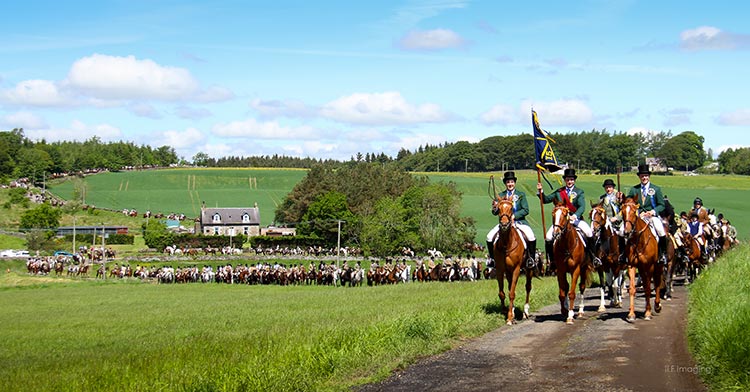 Day Three - Saturday 6th June 2020
First stop of the day is Jedburgh Abbey, the best preserved of all the abbeys despite being so close to the English Border. Then into Liddesdale, pre-eminent in stories of the Border Reivers. Our road takes us by Teviothead where Johnnie Armstrong was hanged, past Hermitage Castle where Mary Queen of Scots scandalously rode to visit the wounded Earl of Bothwell, we cross into England at Kershopefoot, scene of many a bloody ambush of reiving bands and on to Lanercost Priory.
Rewind 1500 years now, and Hadrian's Wall is in sight. The Roman Army Museum gives a great overview of what the Romans were doing here, then to extraordinary Roman vicus at Vindolanda home to the oldest surviving handwritten documents in Britain.
That night you're at a 16th century coaching inn by the English River Tyne.
Day Four - Sunday 7th June 2020
Takes us back up close to the Scottish Border and a look at the site of the Battle of Otterburn, a Scottish victory largely fought out by Douglases and Percys. Then across to Alnwick and the rambling home of both Dumbledore and the Duke of Northumberland. Plenty time here for lunch and exploring this vast castle.
Mid afternoon we head north to Flodden Battlefield and across the Tweed to Coldstream, following the trail of Lord Home, one of the Scottish commanders at Flodden. That night's hotel is in the market town of Kelso.
Day Five - Monday 8th June 2020
Kelso Abbey is right on the doorstep so we take a look at that, then up by Greenknowe, an impressive ruined tower-house of the Pringle family. Our last major stop is magnificent Thirlestane Castle, seat of the Dukes of Lauderdale, still occupied by the Maitland family. Then it's over the watershed to Edinburgh, pausing to see medieval Soutra Aisle on Roman Dere Street on the Lammermuir hills. Stay the night back in our chic Edinburgh B&B.
---
Price, Transport, Guide, Accommodation and Shopping
The cost of the tour is GBP £2000 (USD $2,449 in Oct 2019).
The tour is priced for people travelling on their own.
If you are happy to share a room, there is a reduction of GBP £150 per person.
The tour will be for a maximum of seven people travelling in a nine seater minibus.
Breakfast is included throughout; lunch is not included.
Dinner is included on the last night.; at the other stops there is a range of bar meals and more formal options.
What's Included?
Bed and Breakfast for six nights
Dinner on the one night
Tour guide and minibus for five days
All entry fees
Talk on the Border Common Ridings
Visits to Lochcarron Weavers and Johnstons Cashmere.
Not included:
Air Fares
Lunches, drinks and snacks
Dinners, except the last night
Trip insurance.
We ask for a non refundable deposit of GBP £400 per person. The balance is payable eight weeks prior to the start of the tour.
Cancellation
We strongly recommend that you take out trip insurance in case of unforeseen circumstances.
Exchange Rates
At the time of writing (October 2019) the exchange rate is $1.22 USD to £1 sterling (GBP). We use www.xe.com for our calculations and this means that:
The GBP £2000 holiday cost is currently USD $2449
The GBP £400 deposit is currently USD $488
---
Now What?
If you would like to know, more about the trip then please send an email to me, Alastair Cunningham.
OR - If you would like to go ahead and book a place, you can make your deposit of GBP £400 (Mastercard or VISA) below...
Note - please use Ref: 'BORD' when prompted and send us an email with names of all in the group and your selected tour, stating if you would like to share a room.