A Word on Scottish Castles
Our aim is that your stay in a Scottish castle will be an authentic experience, one not to be forgotten. In our favourite castles you may be called in to dinner by the bagpipes, you can negotiate the winding stone stair, see the stone or wood panelled walls that have witnessed the plan or execution of a few dastardly deeds, smell the candles and dine on good local fare. Even your sixth sense can sometimes be alerted ...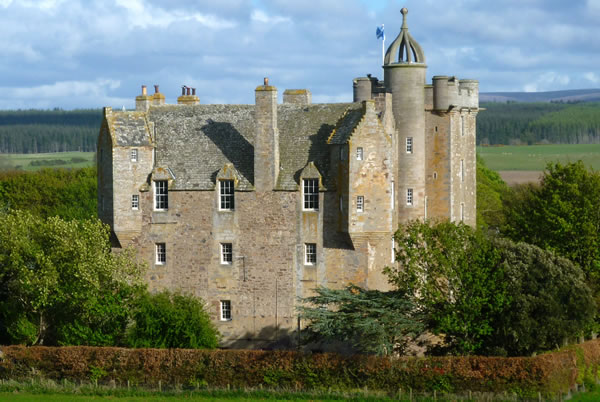 Castle Stuart, a highlight of so many of our clients' holidays
The term 'Scottish Castle' covers a multitude of different buildings. Further down this page is a brief history of how the construction of castles has changed with the centuries. Since then, hundreds have been destroyed. Of the survivors, some have been changed, extended, or transformed into hotels (maybe all three); others have been owned by the same family for three centuries and the present occupants wish they could afford somewhere less draughty.
Many people are surprised at how small our castles are - not rambling English affairs; none can accommodate a party of fifty wedding guests or corporate delegates. Some only have one or two bedrooms available for guests. Most have narrow stairs and advise against very large suitcases. Some have self-catering apartments within them. Almost all have log fires; most manage a further form of central heating. Some have been slept in by Bonnie Prince Charlie and some by Mary Queen of Scots (few by both). Most will give you a conducted tour. Some are close to airports; some are on islands.
In some you dine with the laird; in some the laird lives quietly in the stable block and may easily be confused with the gardener. In some everyone dines together in the Great Hall (this is normally a treat but occasionally a trial); in others you may dine in solitary splendour.
So what would you like to do?
Ackergill Tower, available for exclusive use for up to forty people
For those interested in the history, here is a brief outline ...
The earliest Scottish castles (like that stormed by Wallace in the early scenes of 'Braveheart') were built of wood. Not surprisingly, none of these have survived, but several of the stone courtyard castles that replaced them in the late 13th and 14th centuries are still standing. These range from the dramatic and strategic island fortress of Caerlaverock in Dumfriesshire to the more modest nobleman's castle at Rait Castle in Nairnshire.
In the 15th century, technology moved on and we enter the age of 'tower houses'. Built before the age of effective cannons, tower houses typically relied on thick walls, small windows and a discardable wooden stair leading to a first floor entrance for their defence. A sentry walk on the battlements afforded ample provision for dropping discouragement on attackers. Progress in the 16th century prompted new openings at low level (known as loop holes) for hi-tech cannons to poke through and keep attackers at a comfortable distance; defenders keen to retain a sense of hearing similarly kept their distance if possible. New castles were now dispensing with the traditional battlements as battles were being fought at more of a distance. The turrets that still adorned the roofs were partly for look-outs, but mostly for show.
At the end of the 18th century, two generations after the last Jacobite Rising, Scottish upper classes were feeling it was rather 'brutish' to live in castles that were so obviously built for more barbaric times. Elegant living, English style, was where it was at now. And so, loop holes were blocked up, windows enlarged, ground floor entrances created, and many castles were re-christened as houses. At this time many elegant Georgian mansions were being built - and these were generally much more comfortable to live in than the old castles with small rooms and narrow twisting stairs, many of which were being abandoned.
Balmoral Castle on 'Royal Deeside'
This really concludes our brief history of the Scottish Castle, but there is an important epilogue. In 1842, Queen Victoria and Prince Albert visited the Highlands. To everyone's amazement, they liked it. So much so that they later bought the 'pretty little castle' of Balmoral by the River Dee. When the Queen began to visit Deeside each summer, many nobles, courtiers and prosperous mill owners, all of whom considered the Highlands to be the dismal and distant domain of cattle thieves who could not even speak the king's English, now decided that they too should have a Highland residence.
However, there were insufficient 'pretty little castles' to go round, so the incomers built shooting lodges, Balmoral style, and christened them castles. In the 1940s and 1950s however, rampaging dry rot or the pure cost of upkeep prompted many owners to sell on, often to hoteliers. And so it is that the Highlands is littered with much-turreted Victorian residences calling themselves castles. Many are now wonderful hotels, but they are not, in the strictest terms, Scottish Castles.