The Northern Clans
Clans Mackay, Gunn, Sutherland, Sinclair & the remote beauty of the far north of Scotland.
The Far North is one of Scotland's most beautiful and remote regions. It combines stunning mountain scenery, dramatic cliffs and beaches with a sense of remoteness and that is hard to match anywhere in Europe. This tour is based in the lovely 'Big House' – an old Clan Mackay headquarters on the north coast of Sutherland.
The tour is ideal for anyone with an historical interest in the northern clans – MacKay, Sutherland, Gunn, Sinclair etc – or those who simply want to get away from it all in some of Scotland's most beautiful surroundings.
The beaches and rugged landscape of the Far North
Each tour is with a group small enough to access the best places to stay and the most interesting sites, but with a convivial feel. It is for a maximum of fourteen people, travelling in nine-seater minibuses. Dates are flexible. If you are interested in this tour, please contact us in the first instance to discuss timing.
NOTE: We also run a self-guided Northern Clans Tour which is based on the same itinerary (though with different accommodation) and can be arranged at any time.
Tour details
Arrival day
Experience teaches us that people prefer to give themselves at least a full day to recover from the flight, adjust to the time zone and explore a little on their own. We are therefore including two nights at a chic Bed and Breakfast close to Edinburgh city centre before you meet your tour guide.
Arrival day + 1
Time to get out and about... see Edinburgh Castle, the Royal Mile, the elegant new Town….While in the City, visit he National Museum of Scotland to see key Highland artefacts, West Highland sculptures and the many other fascinating displays.
Day 1 with guide
We all meet in the foyer and set off for the north. Across the Forth bridge and int the Highlands. Stop at pretty Dunkeld and then the Highland Folk museum to get a feel for life in northern Scotland in the days of the clans. We stay near Inverness (those flying straight to Inverness can join the tour here).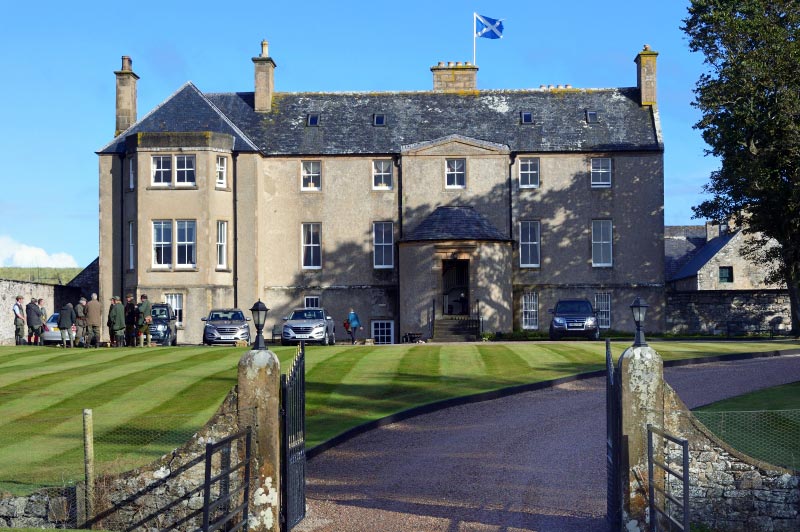 The 'Big House' of Clan Mackay
Day 2
A visit to the mystical Bronze Age Clava Cairns and Culloden battlefield. Then over the Kessock bridge and into the far North. Drive straight to the Big House and settle in.
Days 3 - 7
Five days exploring the Far North from our base. The order of events is flexible and can be adjusted according to the priorities of the group, their clan affiliations, as well as the vagaries of the weather.
Castle Varrick, Durness and Strathnaver with its museum
Durness, the Smoo Cave and Dun Dornagail broch
The Sinclairs and the Castle of Mey
Dunrobin Castle, Dornoch and Strathoykel
Clan Gunn, Wick and John O Groats
A local Highland games
The Flow Country
A day trip to Orkney
NB: The Big House is not suited to very small groups, so in the event of lower numbers we reserve the right to arrange alternative equivalent accommodation for this section of the tour
Day 8
An early start for the drive south to Edinburgh and a final night in a comfortable hotel.
Price, Transport, Guide, Accommodation and Shopping
As an indiaction, the cost of the tour in 2020 was GBP £2,600 (c. USD $3,250). Please contact us for up-to-date prices and availability.
If you are happy to share a room, we offer a £150 discount.
There is also a £50 discount for members of officially recognised Clan societies around the world. Just let us know which society you belong to.
The tour will be for a maximum of fourteen people travelling in one or two nine seater minibuses.
If you wish to plan a 'self-drive' version of the tour, please email me Diana Miers for a quote.
Breakfast is included throughout. At the other meals there is a range of bar meals, snacks and more formal options available to choose from.
Luggage- we suggest a medium sized case plus hand luggage for easy access at your seat. If you are continuing your trip please ask us about left luggage facilities in Edinburgh.
What's Included?
Bed and Breakfast for all nights
Services of expert tour guides
Entry to castles (occasionally, by mutual consent, we change one castle for another)
Meeting key clan figures including the chance of a chief or two!
Not included:
Air Fares
Lunches and dinners, drinks and snacks
Trip insurance
We ask for a non refundable deposit of GBP £500 per person.
The balance is payable thirteen weeks prior to the start of the tour.
The tour's spectacular base
Cancellation
We strongly recommend that you take out trip insurance in case of unforeseen circumstances. Special arrangements for Covid related cancellations on request. Clans and Castles is registered under the official 'Good to Go' scheme. For more details on our terms and conditions please click here.
Exchange Rates
At the time of writing the exchange rate was $1.25 USD to £1 GBP. But rates can fluctuate considerably, so please check this carefully. We use www.xe.com for our calculations.
We strongly recommend that you take out trip insurance in case of unforeseen circumstances.
Now What?
If you would like to know, more about the trip then send an email to me, Diana Miers.
Then when you are ready to go ahead and book a place, you can make your non-refundable deposit of GBP £50 below.
Note - please use Ref: 'NORT'