Scotland for Families
If the children are happy, then parents will normally have a good holiday, too!
We arrange quite a number of family holidays and here we throw out some ideas, based on those that have proved successful in the past.
Edinburgh
Edinburgh is packed with interest. It's good to have two nights there so as to adjust to the time change. There is plenty to interest everyone - history, ghosts, Harry Potter, galleries, old pubs and some fantastic restaurants. If you are there in August, the place will be buzzing with the Edinburgh Festival, The Fringe and The Edinburgh Military Tattoo (see it if possible!). 'Our Dynamic Earth' is a great fall back for children if the weather is less than co-operative!
Castle Country
Pick up your car and see the Forth Bridges (now there are three!) from pretty South Queensferry. Head up the M90 and leave at the exit for Kinross to take a boat trip on Loch Leven, and see the island castle where Mary Queen of Scots was imprisoned. Next stop is Glamis Castle, magnificent childhood home of HM Queen Elizabeth, the late Queen Mother. Here you are welcomed into a historical and architectural treasure trove - but not into the sealed chamber where the Lord of Glamis played cards with the Devil!
Go north now to 'castle country' and that afternoon you should have plenty time to see one of the finest, and the best for children. Dunnottar Castle, on a rocky peninsular in the North Sea, is wonderful for exploring and very dramatic. Stay Stonehaven.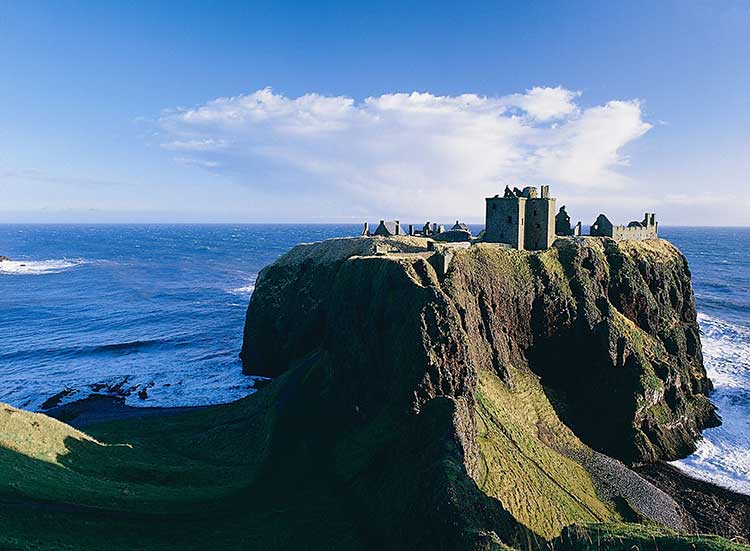 Royal Deeside
Next day, head for a different type of castle. Crathes is a super-photogenic castle, fully furnished inside with lovely gardens. There is a special children's guide available and in the grounds you find 'Go Ape' (note though that this is only for the over 10s).
Head up 'Royal Deeside' towards Balmoral, taking the pretty South Deeside Road (B976), but don't miss Ballater with its array of 'By Royal Appointment' crests above the shops. Balmoral Castle is fun, but normally closed to the public from Easter until 31 July. Nearby Crathie Kirk is where the Royal Family worship when they are at Balmoral in August and September.
You now head over the hills to Tomintoul via 'The Lecht' – ski runs in the winter, mountain biking in the summer – and we suggest you spend a couple of nights at Boat of Garten.
Cairngorm Activities
Take a look at www.rothiemurchus.net for a wonderful range of activities in spectacular surroundings. There's enough here for a week – quite apart from the funicular railway, reindeer herd, Highland Wildlife Park, and for the younger one, Landmark Forest Adventure.
Jacobite Risings
We then suggest taking the old military road to Nairn via Dulsie Bridge and see Cawdor Castle – the home of the Dowager Countess Cawdor in the winter and spectacular inside and out. Take a look at Culloden Battlefield where Bonnie Prince Charlie's 1745 Rising came to a bloody end; the exhibition is really too detailed for most children (and the total immersion cinema too graphic for some) but sometimes there are good 'living history' demonstrations.
Small boys will enjoy Fort George - a perfect 18th century fortification complete with canons and exhibitions of military life – and more interesting than Inverness. Head down Loch Ness, alert for monsters.
Monster Hunting
Two nights at Drumnadrochit sets you up for a boat trip on the loch, perhaps a visit to the Loch Ness Centre, and a look at Urquhart Castle which has a children's guide. Away from the loch you may want to head inland to see Glen Affric or (for older children) a walk up above the loch to Meall Fuar-mhonaidh.
Urquhart Castle by Loch Ness
Beneath Ben Nevis
Fort Augustus at the other end of the loch also offer a good view of a flight of locks on the Caledonian Canal. You then head on by the 'Well of the Seven Heads' (stop for the gruesome story) to the Nevis Range – for great views, endless walks and the fun of seeing boy racers on the mountain bike course below the gondola; also the tree adventure down below. Night in or near Fort William – with the highest mountain in Scotland towering above you.
Glencoe and the Massacre of the MacDonalds
You may want to start the next day with a side trip to Glenfinnan to see the 'Harry Potter Train' cross the viaduct at 1045. Then it's by Glencoe (scene of the massacre of the MacDonalds in 1692) and Rannoch Moor to Doune Castle (a great visit, also included in 'Outlander' and Monty Python and the Holy Grail), pausing at the Falls of Dochart if time permits. Stay in or near Stirling.
Stirling Castle and the National Wallace Monument
If you have another day then enjoy Stirling Castle where there is a designated children's trail and the guides are excellent at bringing all the history alive (allow two hours). From the castle you look across to the Wallace Monument commemorating the hero of 'Braveheart'. It's only 246 steps to the top and you'll be amazed at the size of his sword! The Kelpies are also nearby.
To summarise:
Arrival Day Edinburgh
Day One Edinburgh
Day Two Edinburgh – Glamis – Dunnottar – Stonehaven. (3 hours driving)
Day Three Stonehaven – Crathes – Ballater – Boat of Garten. (2.5 hours driving)
Day Four Rothiemurchus and Cairngorm
Day Five Boat of Garten – Cawdor – Culloden – Drumnadrochit (1 hour's driving)
Day Six Drumnadrochit activities
Day Seven Drumnadrochit - Nevis Range – Fort William (1.5 hour's driving)
Day Eight Fort William – Glencoe – Stirling (2.5 hours driving)
Day Nine Stirling – Edinburgh Airport (45 minutes driving)
Day Ten Fly out.
To take your holiday plans further, contact us by email - info@clansandcastles.com or else go to our Enquiry Form.