Land and Sea Tour
We have developed the Land & Sea Tour for anyone who wants to experience the full glory of the West Highlands and Islands of Scotland.
Of old the region – with its myriad lochs, mountains, glens and islands – was best travelled by both land and sea. Many settlements and castles could only be accessed from the water.
We have therefore designed a combined land and sea tour of Argyll and the islands with our partners St Hilda Sea Adventures.
This eleven night tour takes you into the Highlands and along the West coast of Argyll, visiting (and staying in) castles, picturesque villages and enjoying the spectacular mountain scenery. Then we take ship along the majestic Sound of Mull, famous for its wildlife and bordered by the Isle of Mull and the Morvern Peninsula, and along historic Loch Linnhe. Our voyage will give you the full flavour of Scotland from the sea: its sheltered sea lochs, tranquil anchorages and picturesque habours. The mini cruise is a wonderful introduction to the breath-taking Hebrides and Islands.
Each tour is with a group small enough to access the best places to stay and the most interesting sites, but with a convivial feel. It is for a maximum of seven people, travelling in a nine seater minibus and then a comfortable motorised boat with an expert guide. It includes:
All accommodation (with breakfast)
Transport including a luxurious exclusive small cruising boat with cabins and on-board catering
Entry to key sites
Knowledgeable driver-guides and captains
Tour dates are 16th – 27th August (11 nights)
NOTE: We also run a self-guided Land & Sea Tour' which is based on the same itinerary and can be arranged at any time (subject to boat availability).
It is also possible to book the land and sea elements separately if you just want to enjoy one part of the tour. Please click here to email us for more info.
Tour details
Number of places available for full tour: 7
Sunday 16th August (land)
Experience teaches us that people prefer to give themselves at least a full day to recover from the flight, adjust to the time zone and explore a little on their own. We are therefore including a night at a chic Bed and Breakfast close to Edinburgh city centre before you meet your tour guide.
While in the City, visit he National Museum of Scotland to see key West Highland artefacts such as the sculptures, weaponry and the sections on the Lordship of the Isles and the Highland clans.
Monday 17th August (land)
We all meet in the foyer and set off for the West Highlands. Past Loch Lomond and over the 'Rest and Be Thankful Pass and into the Argyll Highlands. A visit to Inveraray with its magnificent castle – seat and home of the Chiefs of Clan Campbell and Dukes of Argyll. We stay in a nearby Inn.

Castle Stalker and Loch Linnhe
Tuesday 18th August (land)
We drive deeper into the West Highlands. A seaside visit to the ancient crosses at Kilmory and Castle Sween – Scotland's first stone-built fortress. Then on to Saddell, one of the original centres of the Macdonald Lords of the Isles.
Wednesday 19th August (land)
We tour the legendary Kilmartin Glen, capital of Dark Age Dalriada. Then up the stunning West Coast of Argyll to the fishing port of Oban and then our West Coast castle for two nights.
Thursday 20th August (land)
Exploring the West Coast. Ardchattan, dramatic GlenCoe, scene of the infamous massacre, and back via Glenorchy and Kilchurn castle on Loch Awe.
Friday 21st August (land & sea)
Time to take to the waves. Our departure point is Dunstaffnage, in the lea of the famous MacDougall castle. After a short introduction to life on board our small ship we lift anchor and set sail to our first destination which is Loch Linnhe. We travel past Lismore Island for the sheltered anchorage off Shuna Island. We can go ashore and visit the local nature reserve on the mainland and admire famous Castle Stalker. There are lovely walks across the causeway bridge to Port Appin.
Saturday 22nd August (sea)
A narrow entrance leads us in to the tranquil waters of Loch Spelve (on the beautiful Isle of Mull) with its surrounding ancient oak forest. If we are lucky we might spot an otter along the loch shore. We can also pick up some local grown mussels in the morning before we leave to our next destination.
Sunday 23rd August (sea)
First stop is at our daytime anchorage in Duart Bay which is below the spectacular 13th century Duart Castle, the ancestral home to the Maclean clan. You can go for walks along the shore and visit the castle and learn about its rich clan history.
Then on to Tobermory, one of the most picturesque towns in the Hebrides Isles with its famous whisky distillery and colourful waterfront. We anchor in the bay where a Spanish galleon was sunk with all its treasure. There are also Sea Eagle Watch tours, guided walks or you can just wander along the streets, visit the delightful local museum and admire the wooden fishing boats in the harbour of this lovely village.
Monday 24th August (sea)
Across the Sounds of Mull and into the mouth of Loch Sunart. Here, just south of Oronsay island, lies secluded and remote Loch Drumbuie. A squeeze between high sided cliffs and we are in a perfectly sheltered anchorage. We can spend a tranquil afternoon and night here.
Tuesday 25th August (sea)
South to picturesque Loch Aline, where there are woodland walks and, at the head of the loch, Ardtornish estate and gardens. Old Ardtornish castle - fortress of the Lords of the Isles and scene of the infamous treaty between them and the English king - is on the headland above.
Wednesday 26th August (sea & land)
We return to Dunstaffnage marina by lunchtime. Collected to hook up with glorious train journey back through the Highlands to Edinburgh for a comfortable last night.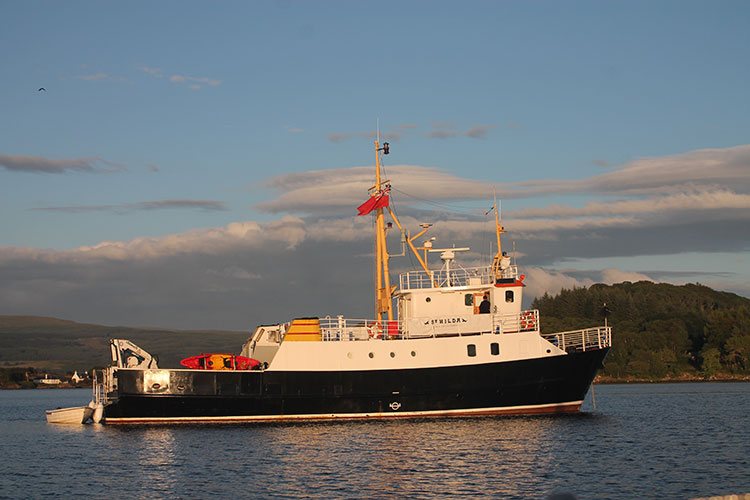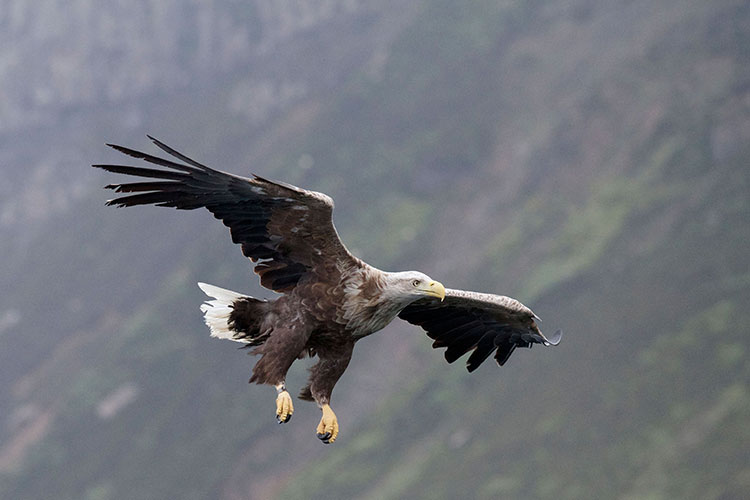 Price, Transport, Guide, Accommodation and Shopping
The cost of the tour in 2020 is GBP £3,600 (USD $4,538 in May 2019).
There is a £200 supplement pp payable for an en-suite double cabin. There is a £200 pp discount for those happy to share a room on the land section of the tour.
The tour will be for a maximum of seven people travelling in a nine seater minibus.
If you wish to book either the land or sea element of the tour separately, or plan a 'self-drive' version of the tour, please email us for a quote.
Breakfast is included throughout; all food is included during the sea voyage. At the other overnight stops there is a range of bar meals and more formal options.
Luggage- we suggest a medium sized case plus hand luggage for easy access at your seat. If you are continuing your trip please ask us about left luggage facilities in Edinburgh.
What's Included?
Bed and Breakfast for all nights
Lunch and dinner on board boat
Services of expert tour guides
Entry to castles (occasionally, by mutual consent, we change one castle for another)
Not included:
Air Fares
Lunches and dinners on land leg, drinks and snacks
Trip insurance
We ask for a non refundable deposit of GBP £800 per person.
The balance is payable eight weeks prior to the start of the tour.
Cancellation
We strongly recommend that you take out trip insurance in case of unforeseen circumstances. For more details on our terms and conditions please click here.
Exchange Rates
At the time of writing (May 2019) the exchange rate is $1.25 USD to £1 GBP.
We use www.xe.com for our calculations and this means that:
The

GBP £3,600

holiday cost is currently USD $4,538
The

GBP £800

per person deposit is currently USD $1,005
Now What?
If you would like to know more about the trip then please contact us.
OR
If you would like to go ahead and book a place, you can make your deposit of GBP £800 (Mastercard or VISA)below...
Note - please use Ref: 'SEA'